Indigo-Clean Protects Against Bacteria and Viruses
SVL has identified another way to improve your air quality. New studies indicate that indigo light waves, in the visibly safe zone, have positive disinfection effects. Surface and air disinfection, with this method, can drastically raise your indoor air quality (IAQ).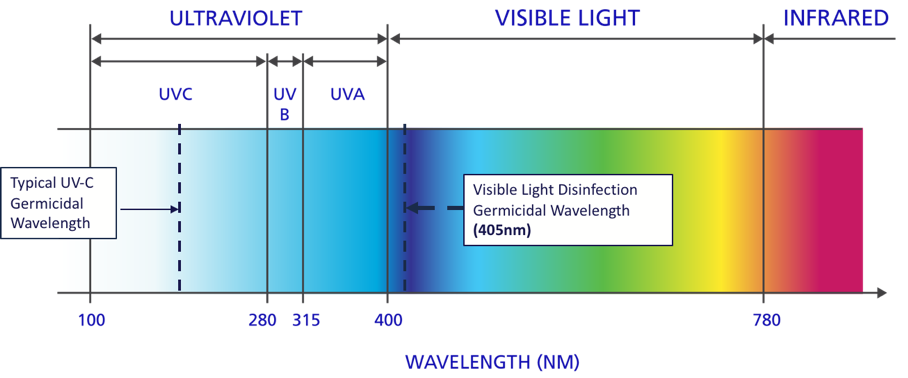 Boosting Your Disinfection Efforts
SLD's Indigo-Clean provides an innovative IAQ solution for COVID-19. The patented Indigo-Clean is a continuous environmental disinfection technology, which uses visible light to safely, automatically, and continuously kill harmful airborne and surface bacteria. Additionally, Indigo-Clean prevents bacteria from repopulating the space, resulting in bolstered infection prevention efforts.
What Makes Indigo-Clean Unique
Indigo-Clean is a visible light disinfection device. It is easy to integrate into the lighting component of the AirFRAME ceiling system. This system requires no specialized training, additional staff, or consumables to operate, saving you time and money. Finally, it uses safe 405 nm visible light, and it is not UV light.
​​​Current standard disinfection methods are often short-lived, and harmful bacteria begin repopulating the space as soon as cleaning is complete. In contrast, Indigo-Clean is a patented, continuous ecological disinfection technology. It uses visible light to safely, automatically, and continuously kill harmful bacteria, in the air, and on hard and soft surfaces. This system also prevents bacteria from repopulating the space, consequently boosting infection mitigation efforts.
Proven Reduction in Contaminants
Indigo-Clean is proven to diminish surgical site infections by 73% and harmful bacteria by 85% in a recent AJIC peer-reviewed study. These results also translate to a considerable reduction in the transmission of bacteria and viruses, including the SARS-CoV2 virus.

Adding Visible Light Disinfection to Your Facility
Incorporating visible light disinfection in nearly any space is easy. This system is an excellent option for gyms, hospitals, airports, classrooms, as well as manufacturing plants. SVL has the expertise to identify the best configuration of products for your facility to achieve its maximum IAQ possible.
To learn more about adding SLD's Indigo-Clean into your building, contact your SVL Sales Representative or click here.
https://www.svl.com/wp-content/uploads/2019/09/Indigo-Clean.png
300
300
SVL Web
https://www.svl.com/wp-content/uploads/2018/06/SVL_Websafe_Logo_small-1.png
SVL Web
2020-08-17 20:05:51
2022-09-26 09:09:09
Indigo-Clean Provides Increased Indoor Air Quality